CT, also known as computed tomography, scans are an important diagnostic tool for identifying, monitoring, and treating a variety of health issues. They provide doctors with a "3D" x-ray image of target areas in the body. It's a new experience for many people, and there can be a lot of questions leading up to your CT scan. Below, you'll find what to expect to alleviate your concerns and ensure you prepare correctly.
What to Expect Before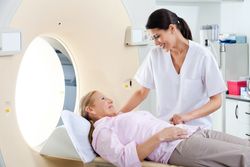 Before you're placed into the CT scan machine, you'll need to remove all metal objects so that they don't interfere with the results. It's wise to leave all jewelry at home and to wear comfortable clothing free of zippers, metal buttons, and clasps. Make sure to remove eyeglasses, dentures, and to let the surgery center staff know about any metal pins or prosthetics you have in your body.
You may be in the machine for 15 to 30 minutes, so avoid eating and drinking a few hours before so you won't have to use the restroom or be uncomfortable.
How the Process Works 
During the exam, you'll lie on a table that's fed into the doughnut-shaped scanner. The tube will rotate around you, creating buzzing noises as it takes the x-rays. You'll be able to relax and speak with the technicians the whole time. If you're claustrophobic or have any concerns, let them know ahead of time so they can accommodate your needs.
What to Do After the Test 
Most people are able to leave and return to normal activities immediately following the procedure. The radiologist will examine the results and send them to your physician for review.
The team at The Pain Treatment Center of the Bluegrass is committed to providing a positive experience for CT scan patients at their Lexington and Somerset, KY, offices. They've served the community for over 25 years and provide a wide scope of health care services, including cognitive behavioral therapy, mental health care, surgery, and pain therapy. Visit their website to learn more information and call (859) 278-1316 to schedule an appointment.