An intrathecal pump is a pain management method that benefits those with chronic back or nerve pain. This method presents pain medicine to the affected area, rather than general medicine that affects the whole body. Learn more in the following guide to determine whether this is an option for you.
Guide to Intrathecal Pumps
What Is It?
The pump is implanted in the body and delivers pain medicine directly to a designated area of the spine. The pump, roughly the size of a hockey puck, is surgically installed underneath the skin in the abdomen. A catheter, or small tube, is placed in the intrathecal area around the spinal cord and linked to the pump. Medication is within the pump itself, which is programmed to release medicine slowly. Your doctor can refill the pump with a syringe.
Who May Benefit?
The technology helps those with chronic or otherwise untreatable conditions, including, but not limited to, the following:
Cancer pain: tumors pressing on the spine or spinal nerves, or scar tissue from radiation which causes pain
Arachnoiditis:  a painful inflammation of the protective layers of the spinal nerves (meninges)
Failed back surgery: when surgery to control sciatic pain doesn't work
Reflex sympathetic dystrophy: a progressive nervous system condition that causes chronic pain
Chronic pancreatitis: pain resulting from damage to or inflammation of the pancreatic duct
Also, those who suffer from diseases, such as cerebral palsy and multiple sclerosis, stroke, or brain injury, can find relief from muscle spasticity with an intrathecal pump.
Who Is a Candidate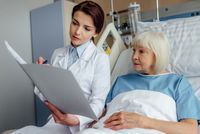 To use the intrathecal pump, you must not be allergic to the metal or the medication. If other therapies have failed or are unavailable, you have no history of or present prescription drug dependency, you have positive results with trial doses, and you can withstand the surgery, an intrathecal pump may be an option for you. 
If You Choose Surgery
Once you have decided that preliminary factors qualify you for surgery, you must have a trial to see if the pump and medicine will work. Various screening tests are used, including a single injection of the medication via lumbar puncture, multiple injections over a series of days, or a continuous trial using an external pump and an internal catheter. The doctor will note the type and amount of drug that works best, as well as the best location for the catheter. If the trial works, a neurosurgeon will perform the surgery.
If you need pain management in Somerset and Lexington, KY, choose The Pain Treatment Center of the Bluegrass. Their pain management experts offer many methods of treatment, including intrathecal delivery. Founded in 1993, the center focuses on treating those for whom other methods of pain management have failed. Call (859) 278-1316, ext.258, to learn more about the Center and how to be referred in as a patient. Visit the website to learn more about their services.