Living with chronic pain is both challenging and disheartening. Seeking appropriate therapies is key to enhancing your quality of life and finding relief. One method that pain management professionals may recommend is neurostimulation therapy. This treatment could be useful for those who have tried others without success. Here's what you should know.
Chronic Pain
According to the National Institutes of Health (NIH), 25 million adults experienced daily pain for at least three months in 2012. This type of chronic pain keeps people from enjoying their everyday activities and living their lives normally. It is detrimental from both physical and emotional standpoints. If your pain management doctor diagnoses you with neuropathic pain, or pain that persists after alleviating the original problem, then neurostimulators may be a suitable pain therapy to consider.
Neurostimulators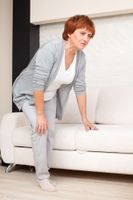 Neurostimulation is designed to disrupt pain signals as they move to the brain. All neurostimulator systems consist of three main components: a generator, which is the stimulator that creates the electrical signals; a series of insulated lead wires that deliver those signals near the spinal cord, which sends pain signals to the brain; and a handheld programming device, to customize your treatment and control the device.
How It Works
The goal of neurostimulation is not to stop the pain, but to disturb the signals that tell the brain you feel discomfort. When it fires electrical pulses to the spinal cord, the original signal is interrupted enough that the brain perceives it as something less severe. For many people, this will relieve pain enough that it improves their quality of life significantly. Others may not feel any difference. That's why doctors recommend a trial period using an external generator; if it doesn't work, they will remove the wires, and you can consider other pain management treatments.
Who It Benefits
Because there is a trial period, this is an excellent pain management option for people who haven't found relief using other methods, or who have undergone several unsuccessful surgeries. Many people may not want to undergo more operations and prefer a less invasive approach. Those who suffer from pain in the back, legs, and back, in particular, may benefit.
You don't have to cope with chronic pain on your own. Turn to the experienced staff at The Pain Treatment Center of the Bluegrass. For over 25 years, they've provided effective pain relief treatments, including neurostimulators, lumbar and celiac plexus block injections, and intrathecal pumps. Along with these procedures, they offer behavioral and physical therapy to assist with pain management. To learn more, visit their website or call them at (859) 278-1316, ext. 258, to schedule an appointment.